Back in August of 2019, Elisa Gall tweeted the cover of
How to Celebrate Thanksgiving: Holiday Traditions, Rituals, and Rules in a Delightful Story
by P.K. Hallinan. It is due out on November 5 from Sky Pony publishing.
A conversation about the book also took place on Facebook, where someone noted that the book was first published in 1992 as
Today Is Thanksgiving.
I looked around and sure enough... the covers are the same. New title, but the same illustration: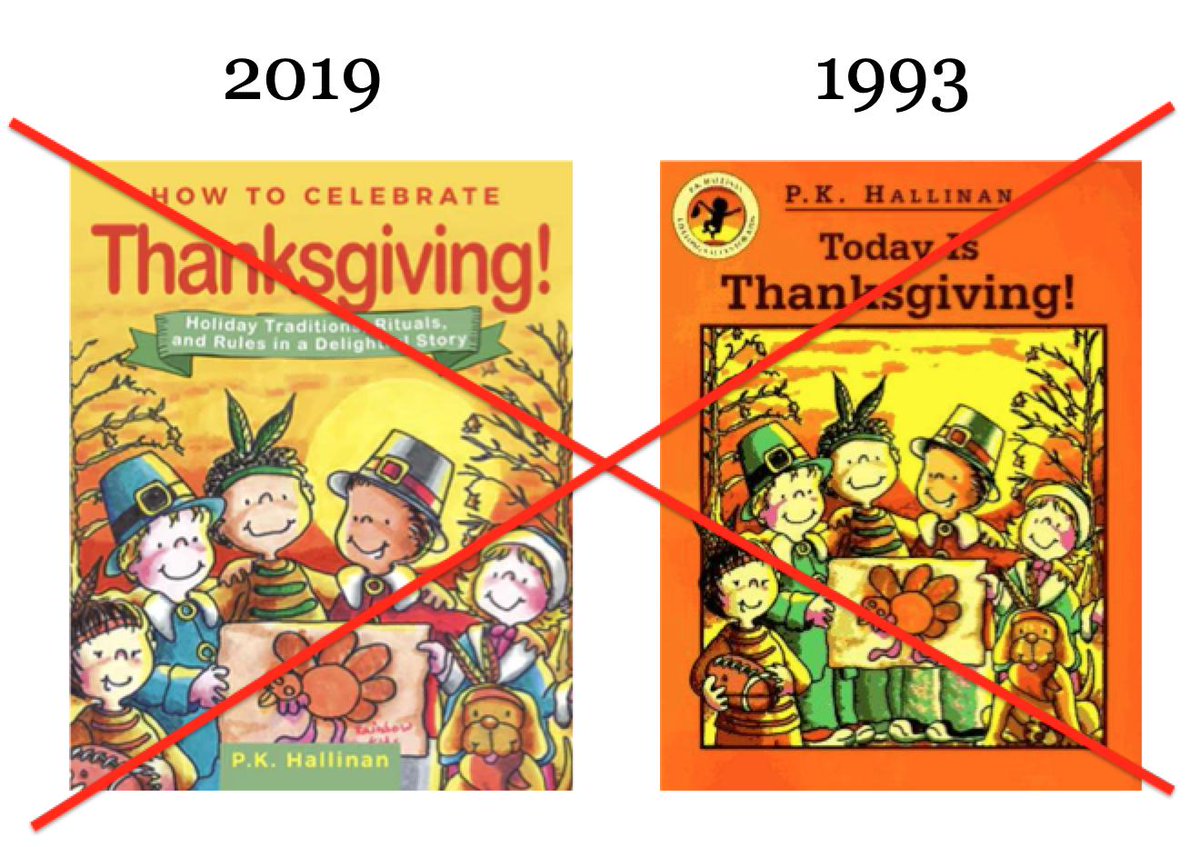 The
1993 edition
is available at the Internet Archive. I'll paste some images below. If you have the 2019 edition, do you see these images inside? The subtitle for the 2019 edition is "Holiday Traditions, Rituals, and Rules" and its "How To Celebrate" suggests it is a how-to book. The description of the new one sounds exactly like what I see in the old edition:
Parents and children alike will delight in this cheery book about Thanksgiving Day. From baking an apple pie to playing football on a crisp autumn morning to gathering around the table with friends and family, this adorable picture book depicts some of America's most treasured family traditions.
The lively rhyming text and bright illustrations will not only delight and entertain your kids, but will also instruct. Hallinan gently encourages children to help with the preparation of the holiday meal, to spend time with family, and also to be grateful for the many blessings that they have been given.
The story opens on Thanksgiving day with two children thinking about Pilgrims and Indians. Though I am careful to say that Native people can have fair hair and skin, I am pretty sure that these two kids are White.
Downstairs, their parents are cooking. The two children are shown going downstairs "descending on old Plymouth Rock." One has a comb tucked inside a headband. You can see it better when he sits down at the table to help his parents make pie:
Then, they go watch TV. That kid is still wearing the comb:
When the parade is over, the two kids get dressed and go outside to play football with their friends. The comb is gone. But, look closely at the eyes of the child in the red sweater. Dr. Sarah Park Dahlen has done presentations on the way that the eyes of Asian children are drawn in children's books. At her site, she's got the
Ten Quick Ways to Analyze Children's Books for Racism and Sexism
guide published years ago by the Council on Interracial Books for Children. Item #1 names slant-eyed "Oriental" as a stereotype.
Is that child shown that way in the 2019 edition?
The rest of the book is about the kids playing football and then going back inside to greet cousins. Then, they eat and play games that evening. The final page is reflections on the day.
The questions are for the editor and publisher. If the 2019 edition is identical to the 1993 edition,
why
is it being republished, as is, without any revisions to its anti-Native and racist Asian illustrations and ideology?